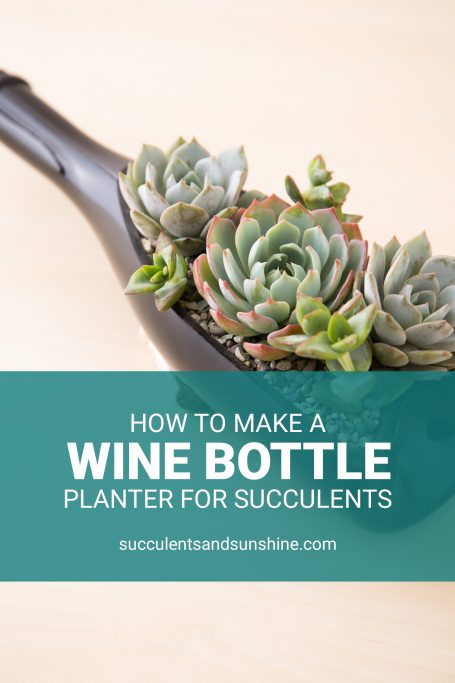 If you want a one-of-a-kind pot for your succulents, try placing them in a glass wine bottle! It will be an eye-catching addition to your decor.
When you buy items that are linked on this site, we may receive a commission that does not add to the cost of your purchase. This commission helps us to provide free content for you to take advantage of.
I recently discovered Looking Sharp Cactus and bought a succulent-filled wine bottle arrangement from them and I absolutely loved it! There are so many creative and fun options for planting succulents!
I recently saw the wine bottle planters she sold, so I decided to try making one myself. I was delighted to find that the bottles had a drainage hole, which made them an ideal choice for growing succulents. I knew I had to share this knowledge with you all, so I'm providing this tutorial to show you how to take advantage of this great option!
Click here to purchase a wine bottle planter to create a stunning display with succulents!
In order to create this stunning arrangement, you will need to purchase the following items (click the links to purchase the products online):
Create a succulent container garden in a wine bottle by filling the bottle with succulent soil, adding 3-5 succulents, and topping with dressing and tools.
Awesome! Time to get to the fun part!
Design
You should begin by mapping out the arrangement. It's a good idea to put the succulents in their desired spots while they are still in their pots, so that you can shift them around without making too much of a mess.
Remove soil
Once you have the design in mind, it's time to get your succulents ready. Carefully take out the succulents from their container and shake off any excess soil. Even if the roots come off while you're doing this, it's OK – your succulent will still be able to thrive. Additionally, this potting tray is great for indoor use!
Fill the planter with soil
Fill your planter with enough soil so that it almost reaches the top. This will give you enough space to place your succulents without overflowing, while also preventing the need to add more soil later.
You can make sure that the soil in the pot remains secure by filling the neck all the way up with dirt. If the bottle doesn't have a cork or stopper, you can either add one or fill the neck up to the point where the soil won't come out when you pour water in.
I suggest that succulents be planted in a soil that allows for good drainage, particularly if they are in a glass container, to avoid root rot.
Start planting in the center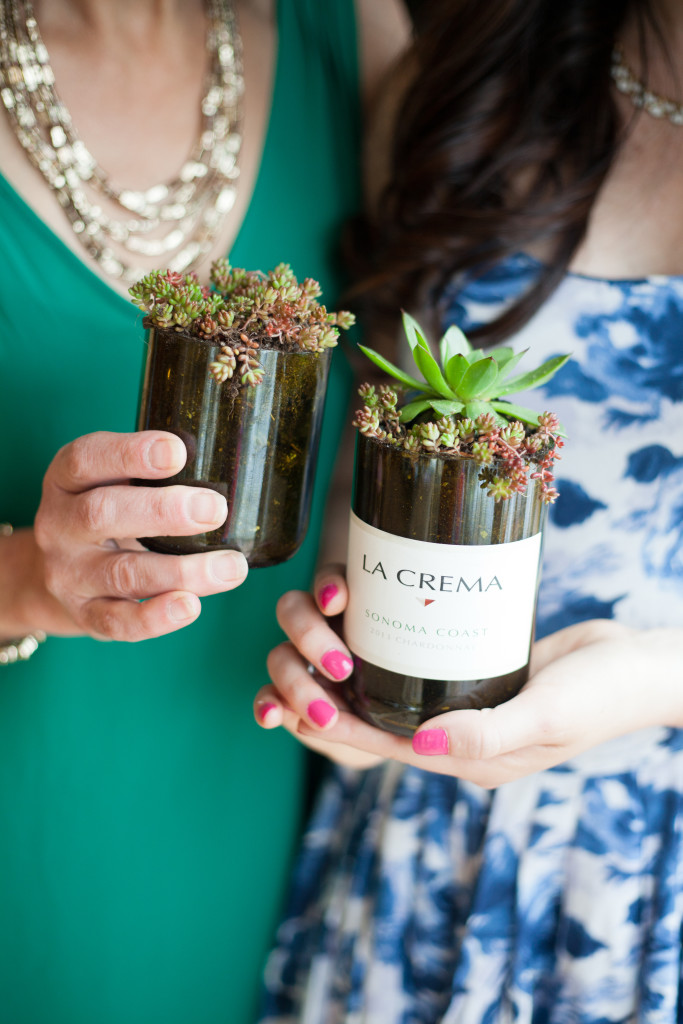 Add other large succulents
At this stage, you should consider introducing any other large or eye-catching succulents.
Fill in the rest
Include miniature succulents to adorn the planter and complement the main feature.
Add top dressing
Complete your flower arrangement by topping it off with a layer of top dressing. This will give the arrangement a polished and professional look while helping to keep the soil in place.
Care
Wait a couple of days after your arrangement is finished before watering it. This will give the roots enough time to heal. Once the two to three days have passed, begin to water it as you would any other established arrangement.
The brilliant design of Looking Sharp Cactus' planters includes a drainage hole, making watering and maintenance a breeze!
Place your arrangement in a spot that receives ample, indirect sunlight to help it stay neat and tidy.
These wine bottle arrangements will be a fantastic addition to any space. Perfect for a wedding table centerpiece, as a window display, or a special present, they will be sure to make an impression.
Click here to purchase the materials necessary to create an empty wine bottle planter!
Reworded: Changing the way something is expressed without changing its meaning.
FAQ
How do you make a succulent planter out of a wine bottle?
A video on YouTube titled "Gangnam Style" by South Korean singer Psy has been viewed by millions of people. The music video features a variety of dance moves, humorous scenes, and catchy lyrics.
How do you grow succulents in a glass bottle?
Can you grow a plant out of a wine bottle?
With this Bottle Stopper Garden Kit, you can turn an empty wine bottle into a garden! Fill the bottle with water, add the "smart soil" capsule to the neck, and sprinkle in some herb seeds. Place it in a sunny spot and you can watch as your herbs sprout and grow in the following weeks.
How do you make a succulent planter?
The video shows someone playing a guitar and singing a song. It depicts the musician strumming the instrument and singing along with the music.