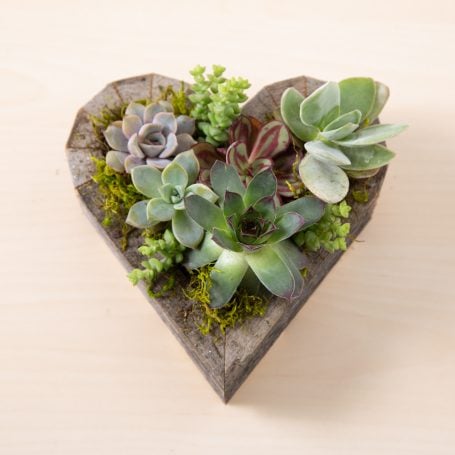 This heart-shaped succulent planter is the perfect present for Mother's Day! It is a creative and cost-effective way to show your appreciation. Assembly is fast and fun.
When you make a purchase on this website, we may get a commission from your purchase, but you don't need to pay anything extra. We use this commission to provide free content for everyone to enjoy.
Have you ever looked at a stunning succulent arrangement on Instagram, Pinterest, or Facebook and felt like you couldn't replicate it in your own home?
That sounds like something I would say!
When Succulent Gardens offered me the chance to try out one of their redwood succulent planters, I was delighted, feeling like I had won the lottery!
When I spotted this planter set that was shaped like a heart, I knew it would make a wonderful present for Mother's Day.
In other words, why not make your own decorations for Christmas, or any other special occasion? Once you see how simple it is, you'll be thrilled with your craftsmanship!
Supplies
The DIY kit contains all the necessary components for you to finish the job.
A planter that is shaped like a heart, filled with succulents and moss.
The plants included in the kit come together beautifully, eliminating any guesswork. Simply assemble the pieces and you'll have a stunning arrangement!
A true bargain of a masterpiece, if I do say so myself.
Instructions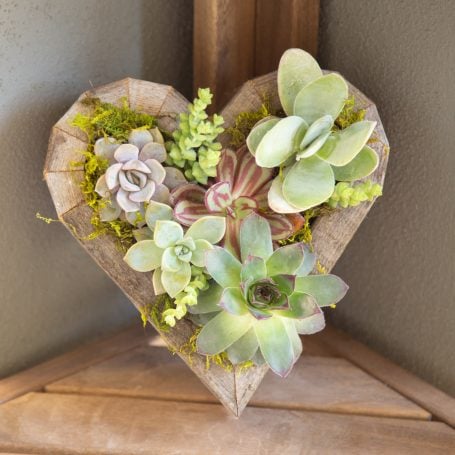 Begin by packing the planter firmly with moss, leaving enough space to place the succulents later on. Make sure to reserve some moss to fill the top layer.
Thoroughly clean the roots of the succulents by removing any excess soil. If the roots are tightly packed together, gently loosen them to promote better root expansion. Learn more about the importance of this step by reading this article.
Begin inserting the succulents into the planter and make sure to tuck their roots into the moss for support.
Once you have your succulents arranged in the way you desire, take a step back and make sure you're content with their placement. If there are any areas with lots of empty space between plants, you may want to consider adding some soil to fill in the gaps.
After you have everything in place, complete the display by putting some moss between the succulents. Make sure that the roots and dirt are concealed.
The arrangement should remain in a horizontal position for a minimum of 4-6 weeks so that the roots can become firmly established in the moss.
You can decide how to display your arrangement after a few weeks – whether it's upright, hung on the wall, or kept flat.
Caring for the Arrangement
To take care of this beautiful new arrangement, you can follow the same steps as for other succulent plants you have. If you're a beginner and don't have any succulents yet, join our free Succulents for Beginners course to learn the essentials of succulent care. Click here to enroll.
This course will make cultivating succulents a breeze, so you can enjoy the process and relax!
FAQ
How do you make beautiful succulent arrangements?
What are the best combinations for succulents?
For instance, I like to combine colors that are opposite each other on the color wheel, like red and green, or blue and orange. Additionally, I usually choose analogous shades when planting succulents, meaning colors that are adjacent to each other on the color wheel, like blue, green and purple.
How do you arrange succulents at home?
Create a hole in the center of the pot with your fingers, then insert the succulent's roots and stem into the hole. Add soil around the base of the plant and make sure the roots are secured in the soil. Fill in the area around the base of the succulent with the soil, ensuring that the roots are well covered. This will help the succulent to settle in and become established in its new home.
How to make a succulent arrangement?
How do you make an indoor succulent arrangement?
Select your pot, make sure it has a hole for drainage, put soil in the bottom, pick out your vegetation, fill the pot with more soil, add decorations, water the plants, and revel in your creation!