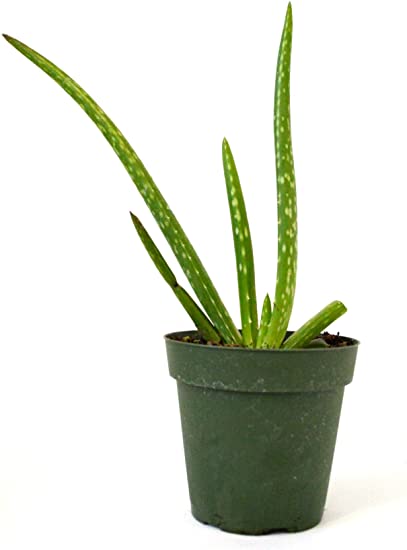 If it is growing in the best conditions, aloe vera can reach heights and widths of about 24 inches. Aloe vera can stop growing for a few reasons, though…
In order to save water during a drought, aloe vera stops growing in the summer at temperatures above 80°F. Aloe vera grows best in a temperature range of 55°F and 80°F. Winter's shorter days and decreased light levels cause aloe vera to stop growing.
In the majority of regions, aloe vera grows more quickly in the spring and fall when the weather is most favorable.
Aloe vera may not be growing for a number of causes, which I have listed in this table.
| | |
| --- | --- |
| Conditions: | Aloe Vera reasons not to grow include: |
| Summer Dormancy | In order to conserve water, aloe vera enters a state of dormancy and ceases growth in the summer when exposed to high temperatures. |
| lack of sunlight | When exposed to some direct sun, aloe vera grows more. Its development can be slowed down by too much shadow to the point where it seems to be stagnant. |
| much moisture at the roots | Between watering sessions, the soil must dry out for aloe vera plants. Stress from too much moisture, brought on by overwatering or poorly draining soils, might prevent aloe from developing. |
| Wintertime growth is slower. | Aloe Vera can halt growing in the winter due to fewer daylight hours and lower light intensity. |
| Warm Conditions. | Aloe Vera grows best at temperatures between 55°F and 80°F (13°C and 27°C). Any cooler can limit growth, while any more heat can cause the aloe to enter a dormant period for the summer and stop growing. |
| bigger vases. | The plant can focus its energy on developing its roots and growing when the aloe is planted in a container that is substantially larger than the root ball. As a result, the first growth of the leaves is usually gradual. |
Find out why your aloe vera isn't growing and how to grow it optimally by continuing to read.
Aloe Vera Stops Growing in the Summer to Conserve Water
Native to the Arabian Peninsula, aloe vera is a succulent that thrives in the desert with plenty of sun and extremely hot temperatures in nations like Oman.
Aloe Vera has evolved to grow in regions with high temperatures and drought-like circumstances by:
retaining water in its plump, thick leaves.
To minimize transpiration—the loss of water from the leaves—the plant opens its stomata at night rather than during the hotter, drier day.
reducing its demand for water during the summer's high heat by slowing its development.
Aloe Vera's primary method of surviving in hot climates with little rain is to enter a dormant state throughout the summer.
The Aloe Vera stops growing in the summer to reduce its water needs and withstand the high temperatures without drying out.
This enables Aloe Vera to flourish in extreme heat and aridity that would be too unfriendly for other kinds of plants and succulents.
Aloe Vera may appear to cease growing in your house or garden during the summer when the temperatures are exceptionally high for an extended period of time due to this adaption of summer dormancy.
The Aloe Vera plant goes through a normal cycle of development and dormancy; this does not imply that the plant is under undue stress.
Although there is frequently a shorter period of dormancy during Winter because to colder temperatures and less light, the aloe vera should continue growing in cooler weather during Fall, Winter, and Spring.
It is vital to remember that Aloe Vera requires less water when dormant in the summer, making it more vulnerable to the effects of overwatering.
You should reduce watering and let the soil entirely dry up to prevent root rot and to give your aloe a chance to recover if you observe the leaves turning yellow, translucent, or developing a mushy feel.
(To find out how frequently to water aloe vera in the summer and winter, read my post on how to water aloe vera plants.)
Lack of Direct Sun and Hours of Light
Aloe Vera are adapted to flourish in dry environments with either partial or full sun, preferring to spend 5–6 hours in the sun in the morning and then some time in the shade in the afternoon.
Because shadow goes against its ideal growing conditions, if your aloe vera is in shade or indirect light, it will conserve energy by developing very slowly, if at all.
Less sunlight may cause the bottoms of aloe vera leaves to appear to be dying.
When Aloe Vera is grown indoors, a slower pace of development is more typical, and it could need a grow lamp to encourage growth and supplement its light.
It's crucial to expose your aloe vera to more light gradually rather than all at once if it's in a place with insufficient lighting.
Aloe Vera or any other succulent suffers from sunburn and has burned leaves that don't recover and need to be pruned when moved from a shaded place to full sun.
Over the course of three weeks, move your aloe to a more sunny location, gradually increasing its exposure to direct sunlight so it may become used to the new environment and avoid scorching.
Your aloe vera should begin to develop more quickly after it is situated in a more favorable sunny area.
(Read why my aloe vera is limp in my article.)
Too Much Moisture Around the Roots Slows Growth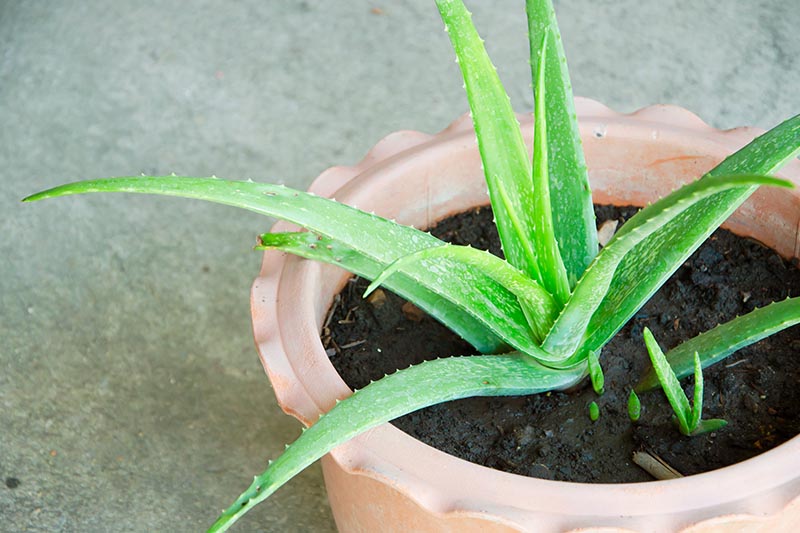 In their natural habitat, the earth is frequently sandy and drains swiftly without holding onto much moisture.
Overwatering Aloe Vera and growing it in ordinary potting soil will stunt its growth and cause the leaves to become yellow or transparent and become mushy.
Aloe Vera is highly sensitive to too much water even by the standards of succulents and cacti, thus even if the leaves do not become yellow or translucent, the aloe can still stop growing if its roots are too moist.
Only water the aloe plant after the soil has totally dried out in between periods of watering. Then, give it a good soak so that the water penetrates the soil and reaches the deep roots. This will encourage growth and maintain a healthy aloe plant.
Always plant aloes in specially formulated succulent and cactus soil, as regular potting soil retains too much moisture after watering and leads to root rot. This soil is available from garden centers and on Amazon.
The well-draining soil properties of the aloe vera's natural environment are mimicked by succulent and cactus soil.
You can recreate the ideal conditions of the aloes natural range with a good watering cycle and well-draining soil, allowing it to develop more quickly and stress-free from water.
(Read my post on how to resuscitate a fading aloe vera plant for more assistance with dying aloes.)
Aloe Vera Grows Slower in Winter
Aloe Vera grows more slowly in response to hot weather, but it also grows more slowly in the winter.
Your aloe vera is not growing in the winter for the following reasons:
less daylight each day.
lower solar ray intensity.
more gloomy and overcast days.
chilly temps
The dirt allows water to evaporate more slowly.
The growth rate of aloe vera will naturally slow down to the point where it may appear to stop growing because aloe vera prefers some direct sunlight to promote growth; therefore, with fewer hours of sunlight as well as lower intensity of sunlight (compared to Spring and Summer), the growth rate of aloe vera will naturally slow down.
Although planting Aloe Vera at the brightest location possible can assist keep the plant healthy, this is not always to the detriment of the aloe since it should start growing as normal in response to more light in the following Spring.
The easiest approach to optimize the quantity of light succulents receive in the winter is with a grow light, however this is not generally essential.
Cool Temperatures Slows Down Growth
Aloe Vera is hardy to Zone 9, which means it can withstand overnight temperature drops to 20° F (-6° C), however at these low temperatures, the plant is more focused on surviving than on expanding.
Aloe vera may withstand brief exposure to cold weather, but it cannot withstand long-term low temperatures, so anytime there is a chance of frost, bring your plants inside or cover them with some horticultural fleece.
The ideal temperature range for aloe vera to flourish is between 55° F and 80° F (13° C and 27° C), which falls within the norm for most households.
The aloe can thrive throughout the majority of the year at these temperatures since it is not stressed by the cold and the summer hibernation is not as severe.
Typically, aloe vera grows more during the milder spring and fall seasons.
Growth Rate in Larger Pots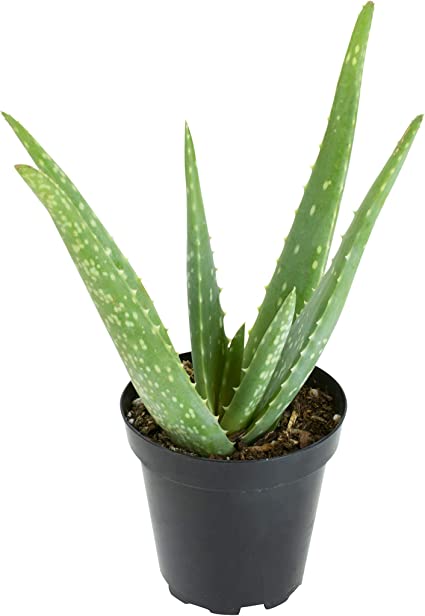 Although it is challenging to pinpoint the exact cause, there are hypotheses that claim that when aloe plants are grown in large pots with a lot of soil, their energy is diverted from vegetative growth to the establishment of their root systems.
However, it could also be because bigger pots have more soil in them, which means they can hold more moisture, which is the opposite of what aloe vera prefers, which is drier soil between watering sessions.
The succulent may be little water strained due to increasing soil moisture and grow more slowly if a larger pot dries out more slowly.
Aloe Vera typically thrives in pots that are proportionately smaller and can even put up with being pot-bound.
A larger pot might not be the only reason your aloe vera isn't growing, but it might be one of the contributing causes.
(For a remedy if your aloe vera leaves are curling, check my article aloe vera leaves curling.)
Key Takeaways:
Aloe vera stops growing in the summer to preserve water in times of drought and hot temperatures, and it starts up again in the fall. Aloe vera can also halt growth in the winter due to less daylight hours and a reaction to the cold.
If there is too much shade, aloe vera can grow very slowly and even seem to stop growing. Aloe plants typically need some direct sunlight for optimum growth.
Aloe vera prefers a cycle of copious watering followed by the soil drying up, which might result in conditions where there is too much moisture around the roots as a result of overwatering and slowly draining soils.
Greater soil capacity in larger pots may cause aloe vera to focus more of its energy on developing roots than leaf growth.
FAQ
Can aloe vera grow in small pots?
Aloe vera grows well even when confined to pots, but smaller pots are better for drainage (bigger pots hold more moisture). The drainage holes at the base are the most crucial component of an aloe vera container because these plants are extremely susceptible to root rot.
How big can a small aloe plant get?
The aloe vera plant can reach a height of three feet, but its typical height is between one and two feet.
How big do mini aloe plants get?
Their final size is approximately 10 cm across and 4 cm high ") and they take a very long time to get there. I've seen some truly old specimens that barely fill a 20 cm (10 in) shallow bowl ") in width. To learn more, see the Haworthia page. Happy Growing, Succulents!
Why is my aloe plant so small?
Aloe Vera is hardy to Zone 9, which means it can withstand a temperature drop of 20° F (-6° C) over night, however at this temperature, the plant is focusing more on surviving than on growing.