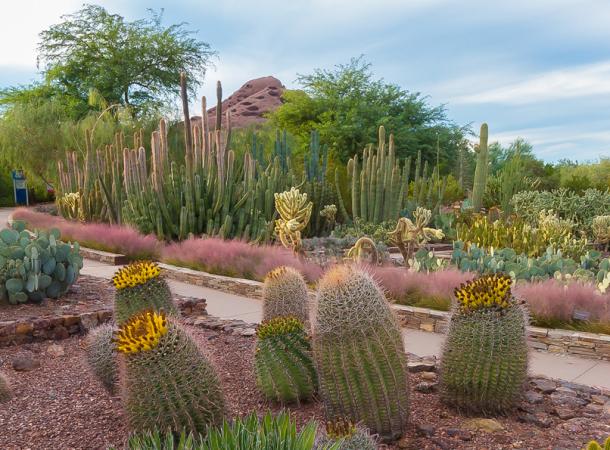 If you're near Phoenix, don't miss out on the Desert Botanical Garden! You'll be amazed by the vast array of succulents and cacti, sure to captivate and enthrall you!
When you buy something from this website, we may get a commission from the sale, but it won't cost you any extra. This helps us keep providing free content for you.
I adore visiting the Desert Botanical Garden in Arizona; it's filled with captivating succulent and cactus arrangements that are both easy to take care of and require very little water.
Today's post will be mostly visuals, but I guarantee it will be worth it! These photographs will show you the stunning beauty of cacti, even if you weren't previously aware of it.
The Desert Botanical Garden showcases an incredible array of plant species which demonstrate the incredible adaptability of plants to even the harshest of climates. Despite the scorching summer temperatures, these plants have adapted and continue to thrive.
You can expect to find a variety of eye-catching plants, from traditional water-conserving varieties to some more exotic specimens. Everywhere you turn, there is something beautiful to admire!
One of the advantages of visiting the Desert Botanical Garden in early spring is that a lot of the aloe and cacti plants are flowering!
You may even observe some animals enjoying the cacti in the springtime! At the Desert Botanical Garden, visitors can marvel at the butterfly exhibit, where numerous species of butterflies are fluttering around the desert environment.
I didn't find the majority of succulent blooms to be especially pleasing, yet these cacti flowers were remarkable! It would have been remarkable to witness them in full bloom, but these few still made an impact.
I am delighted by how the pinkish-purple Opuntia violacea Santa Rita flower perfectly complements the purple tones of the cactus.
Since I visited Patrick Anderson's garden, I have been drawn to the concept of having blocks of colorful cement as a decorative feature. I'm pleased to see that the Desert Botanical Garden has this exact feature.
The terra cotta colored arches were an attractive sight to behold. The hue was just right – not too bold, yet enough to add charm to the garden and make an impression.
No matter when you visit, you will always be treated to a dazzling array of colors and textures to marvel at.
Be sure to check out the Desert Botanical Garden in Phoenix for yourself to witness the amazing array of cacti that can only be seen there!
FAQ
What is the best time of year for Desert Botanical Garden?
is coming
Spring is approaching.
Is there an entrance fee to the US Botanical Garden?
Entry to the U.S. Botanic Garden is without charge.
How long does it take to walk through the Desert Botanical Garden?
I suggest allowing yourself plenty of time to explore the Desert Botanical Garden, which features a main trail that is split by the Quail Run Path and a series of quarter-mile loops. For maximum enjoyment, download a trail guide and map before you arrive. It is recommended to set aside at least two hours to take in the sights.
How much are tickets for the Desert Botanical Garden?
different methods of problem-solving
Alternate phrasing: People look for different ways to tackle problems.
What days are free at Desert Botanical Garden?
On the second Tuesday of every month, admission to the Garden is free.