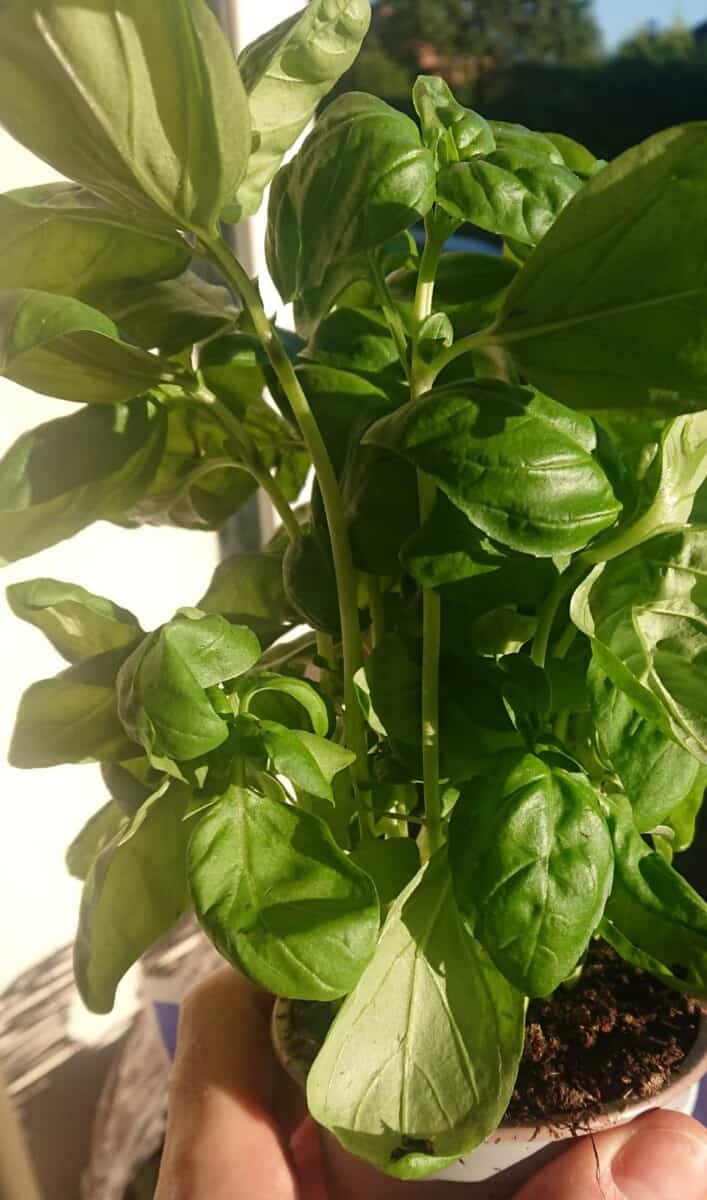 Inadequate sunlight, excessive fertilizer use, and irregular trimming all contribute to leggy basil plants. To maintain a bushy appearance with plenty of leaves rather than a lanky basil with few, basil needs full sun, healthy soil, and trimming once every two weeks.
When basil grows taller than 8 inches, prune it. Regular pruning, moist, well-draining, nutrient-rich soil, and growing basil in full sun all contribute to a vigorous, flavorful plant with lots of leaves and a pungent perfume.
Continue reading to find out why basil plants grow leggy and the best ways to take care of basil so that it will yield more leaves.
Prune Basil Regularly to Prevent a Leggy Appearance
Basil may be easily kept from growing too long by routine pruning. In fact, regular basil pruning has a number of advantages, including:
You can harvest leaves for use in cooking and let more light into the lower section of the plant by cutting the plant's top. Instead of a lanky plant with few leaves, this gives your basil a bushier appearance and greatly increases the amount of leaves.
If you want to use the basil leaves for cooking, pruning stops the basil from flowering and keeps the plant from getting lanky. After the plant has bloomed and produced few further leaves, basil leaves taste harsh. Regular pruning promotes the growth of new, tasty leaves.
Basil plants that are routinely pruned have larger, more vigorous leaves that produce more basil per plant.
To keep the plant looking neat and avoid a leggy appearance that could impair growth, remember to pinch or pluck the stems as well as the leaves when harvesting basil.
Basil should be pruned for best results when the stems are about 8 inches tall. Try to maintain the plant at that height to guarantee a plentiful supply of leaves and to avoid a lanky appearance.
In order to keep the basil plant healthy and bearing as many leaves as possible at the height of summer, you should prune it as frequently as once every two weeks. When pruning, aim for a consistent shape.
Using scissors or pruners, pruning is quite simple. For a clear explanation of how to prune basil to keep it from growing too long, check out this YouTube video:
Read my article Why is my basil blossoming for additional details.
Leggy Basil Plants due to Excessive Fertilizer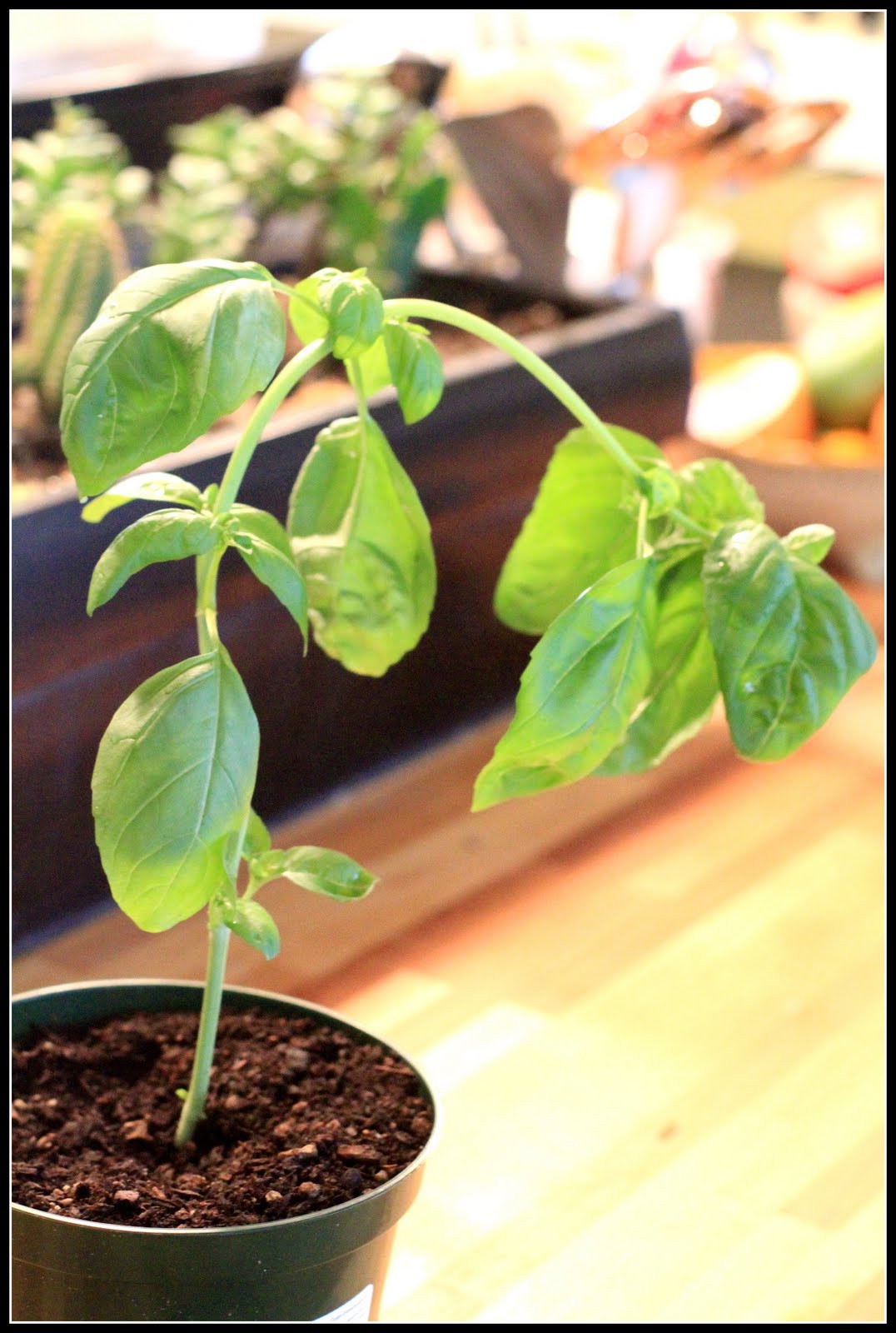 Basil demands suitable soil with a high nitrogen content because of their prodigious development throughout the warmer months of the year.
However, if you have used fertilizer more frequently than once every six weeks or in excess amounts, the basil may become lanky and droopy or even appear to be wilting.
(Read my post to find out the cause of basil plants wilting and a solution.)
For structural support, basil does not have a woody stem; instead, it has a flexible, herbaceous stem. These stems can become mushy, grow excessively, and lose their structural integrity when given too much fertilizer, which makes them flop over and appear lanky.
The flavor and fragrance of basil leaves can also be affected by an excessive amount of fertilizer, with a weaker flavor and less fragrance.
How can it be revived?
A more balanced approach to fertilizing is necessary when growing basil. Priority should always be given to good, rich soil that drains well for basil that tastes delicious.
Loam soil is perfect because it holds large amounts of the nutrients that basil needs (nitrogen, phosphorous, and potassium), thus you frequently do not need to add fertilizer when basil plants are in good soil.
For growing basil in pots, multifunctional compost works well, but you can also add alfalfa or well-rotted manure for organic feeding. You can also feed the basil with organic fertilizer twice, once at the beginning of spring and once more after six weeks, to ensure that it produces lots of leaves.
Alternately, you can use an all-purpose fertilizer, but if you fertilize basil with a product, always follow the manufacturer's directions because too much nitrogen will burn the roots, make the plant lanky, and harm the flavor of the leaves.
After the plant has grown over 8 inches, pinch off or cut the stems to eliminate any excessively drooping basil stems so that the plant stands erect instead of sags under its own weight.
(Read my post on how to revive a dying basil plant to learn how to revive drooping or dead basil.)
A lack of Sun Causes Leggy Basil (Plant Basil in Full Sun)
In addition, the leaves may appear sickly and slightly yellow rather than green and plentiful.
Basil thrives in warm weather and direct sunlight (at least 6 hours of sun per day). The amount of essential oils, strength of the leaf scent, and intensity of flavor all increase with the amount of sunlight.
Basil in direct sunlight frequently needs more watering. Read this post to learn how frequently to water basil for the ideal moisture balance in various regions.
How to revivify wilted basil
The cure is fairly easy if your basil is in a pot or other container; all you need to do is move the pot into a location that receives direct sunlight, and the basil should start to show signs of recovery.
Again, to properly revive a lanky basil plant, the stems must be cut back. This will allow light to reach the lower leaves and promote a bushier plant rather than a tall, leggy one with few leaves.
If your basil plant is in a garden, relocate it to a sunny spot by transplanting it there or by planting it in a container that you can move to a sunny spot.
Here's a simple YouTube video on how to transplant basil:
Main Points
Basil plants become lanky when they receive little sunlight, are not regularly pruned, or receive too much fertilizer.
For a more mature plant with lots of leaves that are flavorful and aromatic, make sure the basil is in full light.
Basil should only be fertilized once every six weeks at maximum because too much fertilizer will make the plant lanky.
Basil needs to be pruned frequently to grow into a bushy plant with lots of leaves. The flavor and scent of the plant are enhanced by pruning, which also encourages greater development from the lower leaves. To prevent basil plants from becoming lanky in the summer, prune once every two weeks.
FAQ
How do I make my basil bushier?
Ensure Proper Drainage. … Basil plants grow best in loam soil because it holds onto the nutrients it needs—nitrogen, phosphorus, and potassium—in large quantities. When basil plants are in good soil, you may not always need to add fertilizer.
How do you fix tall basil?
Leggy basil may be revived with careful pruning, so once the plant has grown over 8 inches, pinch off or cut the stems to get rid of any excessively floppy basil stems. This will help the plant stand up straighter rather than sag under its own weight.