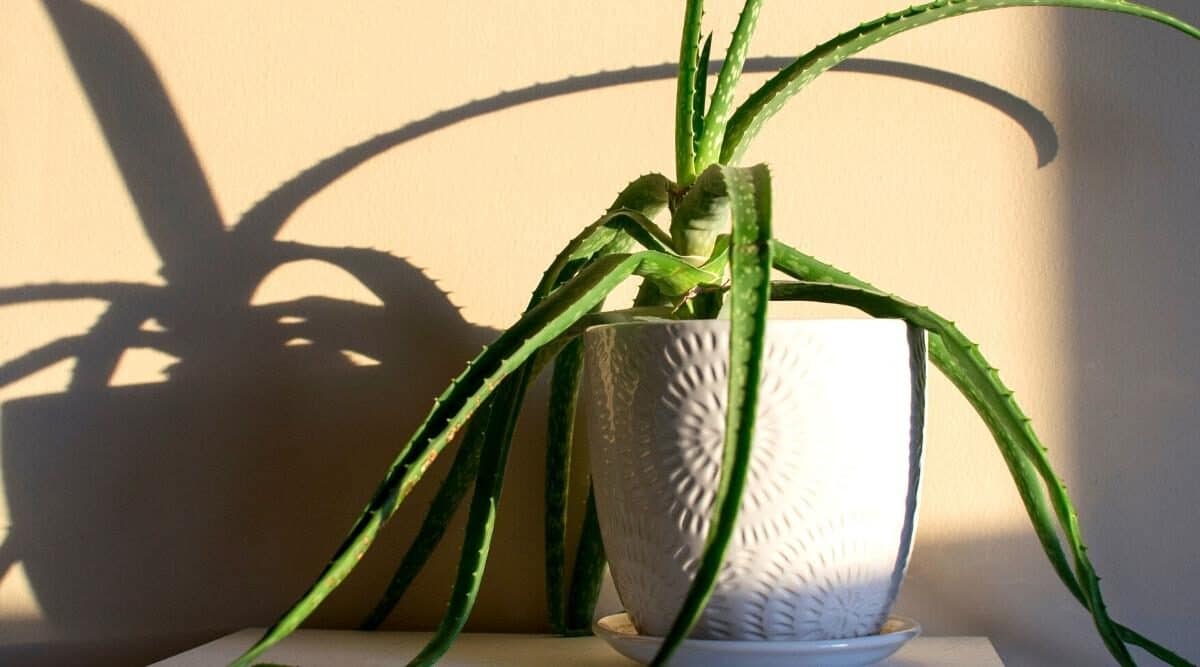 Many people experience "droopy aloe plants" or its leaves bending sideways, but you are unsure of the precise cause. With the precise approach I've outlined below, this issue with limp aloe plants can be resolved. We utilize aloe vera in our daily lives because it contains medicinal qualities in its leaves. Aloe plants are simple to maintain, but occasionally, due to care concerns, they become limp and droopy. Normally, aloe plants are tall and vigorous. Wilting and curling are symptoms of a plant that is suffering from a lack of water. We'll now talk about it, figure out what happened to your succulent, and figure out how to restore your wilting aloe plant.
Droopy Aloe Plant
Overexposure to sunshine and stress from being submerged cause plants to lose their capacity to thrive normally and begin to droop. Aloe vera that is limp can also be caused by pest infestation, excessive watering, fungus on the roots, and poor soil drainage. Root bound, pot bound, and insufficient light all contribute to droopy conditions. Aloe plants that are drooping can be revived by providing them with less water, adequate light, and, in rare instances, a suitable insecticide.
Due to its easy maintenance requirements and superior medical advantages, aloe plants are among the most widely used succulents in homes today. According to the National Center for Biotechnology Information, leaves with transparent gel inside them can cure burn wounds more quickly than conventional methods.
List of causes for my aloe vera plant's limpness
| | |
| --- | --- |
| Family | Asphodelaceae |
| Scientific Name | Aloe barbadensis miller |
| Native | Arabian Peninsula |
| Other Names | Cape aloe,Aloe plant, Chinese aloe, Barbados Aloe |
| Plant Type | Perennial, Succulent |
| Hardiness zone | 4a to 8b |
| Grown | Pots, Containers, Gardens, |
| Height | 24-40 inches(50-101cm) |
| Growth rate | Slower |
| Soil | Well draining, Fertile |
| Light Requirement | Partial Sunlight, Full Sun(Can Tolerate) |
| Fertilizer | Liquid based |
| USDA hardiness | Zone 8 – 11 |
| Blooming Season | Summer |
| Flower Color | Orange, Red, Yellow |
| Leaf Color | Green, Spiky Shape |
| Growth Rate | Slow growing |
| Benefits | For Skin and Body |
| Uses | Cosmetics, skin creams |
| Toxicity | Mild toxic |
1. Underwatering
Due to their succulent nature, aloe plants thrive in minimal water, but if they are ignored, their leaves may become limp, droopy, or unstanding. I've observed numerous times that aloe vera planted in direct sunlight lose water from the soil, placing it in an underwater posture. The remedy is to water the plants in the morning or in the evening after sunset so that the roots can properly absorb the water.
Although it is uncommon, some plants are also having problems with overwatering, which is typically caused by sunlight or poor location. The best way to remedy a droopy aloe plant is to water it as soon as the soil is completely dry. If water leads out of the bottom of the pot when you water, your pot drainage system is in excellent functioning order.
Underwatering in aloe plants results in leaf blotches, browning, drooping, and bending of the leaves. If given the right care, it can resurrect in 10 days and produce thick green leaves as opposed to thin, dried, translucent ones.
2. Insufficient Light
One of the most frequent causes of droopy aloe plant leaves is low or inadequate light because, in general, if the leaves don't receive enough light, they bend down and develop in that direction until they come into contact with the light source. If your aloe plant is reaching out for light and the pot is not in a spot that even receives light, you can check that. If this is the case, relocate the plant and see if the leaves still appear happy two weeks later.
The aloe vera plant's position is changed if the leaves on your plant grow back and stand upright. If you give it enough water, it will flourish, and right now, that place would be ideal.
You sometimes can't resuscitate injured aloe plant leaves if they aren't standing because they have wilted or become too limp. The issue of the droopy leaves can be resolved by providing enough water and lighting.
Once the aloe plant's minimal requirements are met, you'll see new leaves that are hydrated. You can cut the mature plant's leaves and apply them to your skin since they have therapeutic effects.
3. Excessive Sunlight
Yes, too much sunshine can burn the leaves of an aloe vera plant, which is why it should only be grown in areas with partial light sources. It is best to position an aloe vera container close to south-facing windows that receive 2-4 hours of direct sunlight each day. As a result, you should consider providing water more frequently, such as every 5 to 6 days when the soil is entirely dry. Aloe vera plants Leaf browning, leaf yellowing, leaf spots, leaf burns, and withered foliage are all effects of excessive sunshine.
The aloe plant can wilt and droop if it doesn't receive enough sunlight, therefore it shouldn't receive too much of it because it would generally damage the leaves and stunt the plant's growth.
Aloe is a succulent that normally dislikes intense sunshine because it causes the water in its leaves to evaporate, which might invite pest infestation. When anything similar to a droopy condition occurs, some individuals feed aloe vera 2-3 hours of direct sunshine before relocating the plant to shade. The plant is unquestionably saved from further harm by this, and fresh leaves will soon sprout.
4. Drainage Issues
Droopy aloe plants or wilted leaves might occur if your aloe vera is overwatered as a result of drainage problems. Aloe plants may be fighting to survive because they dislike soggy, overwatered soil. If they are left in wet soil for days, a fungal infection may develop that causes root rot, which is harmful to aloe plants.
Check the drainage hole in an aloe plant to determine if it is correctly draining water from the bottom before making any drainage adjustments. Once you are certain that the drainage hole is completely functional, move your aloe plant pot into direct sunlight so that the soil can dry. You can water it and put it back under a partial light source after it has completely dried.
This is the issue with frequent watering; if the soil doesn't have time to dry between applications, pathogens can infect the root and cause weak foliage.
5. Poor Soil
Aloe vera potting soil occasionally gets wet and doesn't drain away water adequately as a result. cause poor aeration, which restricts the flow of water and air to roots, causing root rots. You can replace the soil or repot the plant in a different pot with new potting soil.
Aloe plants may become limp as a result of the poor soil and inadequate drainage because they will be unable to stand upright and fall to the soil surface. Similar to drooping brown, light greenish, dried-out aloe plant leaves. It would take a different type of soil and watering only after the earth has dried completely to fix these droopy leaves. The aloe plant might be saved by this.
6. Pot Bound
Because there is little room left for roots to grow, your aloe plant may be indicating that it is now pot-bound by stressing out the leaves and the entire plant. If your plant is tiny, it won't be an issue, but once it matures and reaches a certain height with those long, prickly leaves, it will require more room.
Repotting your plant may be able to save it, or you can grow extra leaves on two additional pots to produce new aloe vera plants. Use a larger pot that will fit your plant if you don't want the plant to spread. Because your plant is now large and requires a sturdy pot, it should be 2-3 inches bigger.
7. Diseases
The aloe plant is a low-maintenance succulent, but if it is not nurtured correctly, it may contract certain diseases that can be harmful to aloe vera plants. Some illnesses affect the roots, whereas others typically affect the leaves. These diseases, which are also known as fungal and bacterial infections, can typically affect any plant if they are not properly cared for. The following diseases affect aloe plants:
Leaf spots: Aloe plants frequently experience difficulties that manifest as reddish, rounded, and dotted-like spots on the leaves. The main causes of this issue are overwatering and too much sun.
It does cause slight damage to the plant, but it can be fixed by moving it and scheduling watering.
Basal Stem Rot: As the name implies, this sort of rotting affects houseplants of all kinds, not just aloe vera, and it is very serious. Basal stem rot is characterized by symptoms including browning of the shoot or base of the root. This is actually a fungus, and you can preserve the plant by trimming some of the affected areas. Just be careful not to harm other plant parts.
Find a healthy leaf cutting and try to propagate it in water for around 10 to 15 days if the rest of the plant is rotten. By taking multiple cuttings, you can actually keep the aloe and create new plants from seed.
You shouldn't be concerned about water propagation because it works and, sure, it won't rot there because rotting only occurs in moist soil, which is where fungal infections start. Rooting them in water will be beneficial.
Change your water every three days to prevent infections.
Aloe plants can get root rot due to the fungi Pythium and Phytophthora Rot, and your plant's leaves may also become dark brown and develop leaf spots. When soil is overwatered, phytophthora rot can infect roots and cause symptoms like drooping and bending of leaves. Pythium fungus can harm new rooting and tips.
Aloe rust is a fungal disease that develops when the soil is wet, the temperature is too low, and there are water molecules in the air. Even though aloe rust only affects the area where it first develops and even though it is not a dangerous disease, you should still only water aloe plants when necessary. To prevent this, you should not overwater aloe plants.
Aloe rust symptoms include fading areas that later turn brown. Fortunately, the disease doesn't spread widely, saving the plant.
Soft Rot is a common bacterial infection that affects aloe plants. Wet soil and excessive watering cause wilting, drooping leaves, which provide the bacteria with the moisture they need to grow and infect the plant. It affects the entire plant, and if it has been severely affected by soft rot, we sometimes are unable to save the plant.
The majority of the time, you'll notice this if the leaves on your aloe plant start to bend over, turn light green, or droop. This occurs as a result of overwatering or watering frequently throughout the week, depending on the environment, season, and location of your garden.
Again, a fungal illness, sooty mold appears once the bug has infected your aloe plant. Typically, mealybugs and aphids are present to dry the aloe leaves by sucking the juice from them. Once the plant leaf dries up, it won't have enough water to stay upright and may drop or bend. Even so, they leave behind a gluey residue that causes issues like mold and thereby triggers the onset of a fungus infection.
You can resolve the pest problems. I've explained below.
8. Pest Infestation
Aphids and mealy bugs are two of the pests that can infect aloe vera plants. Both share the same trait: they both inhibit plant growth by sapping away all the aloe plant's juice and leave it vulnerable to bacterial infection. While aphids do sucking the plant sap, leaves curl up is one such symptom of their presence and in some circumstances leaf dropping could happen. If we talk about mealybugs, they often cause leaves to turn yellow and wilted and in some cases leaves may seem to drop.
By using an insecticide, you may prevent both of these from infecting your aloe plant and keep it alive.
Regarding aloe vera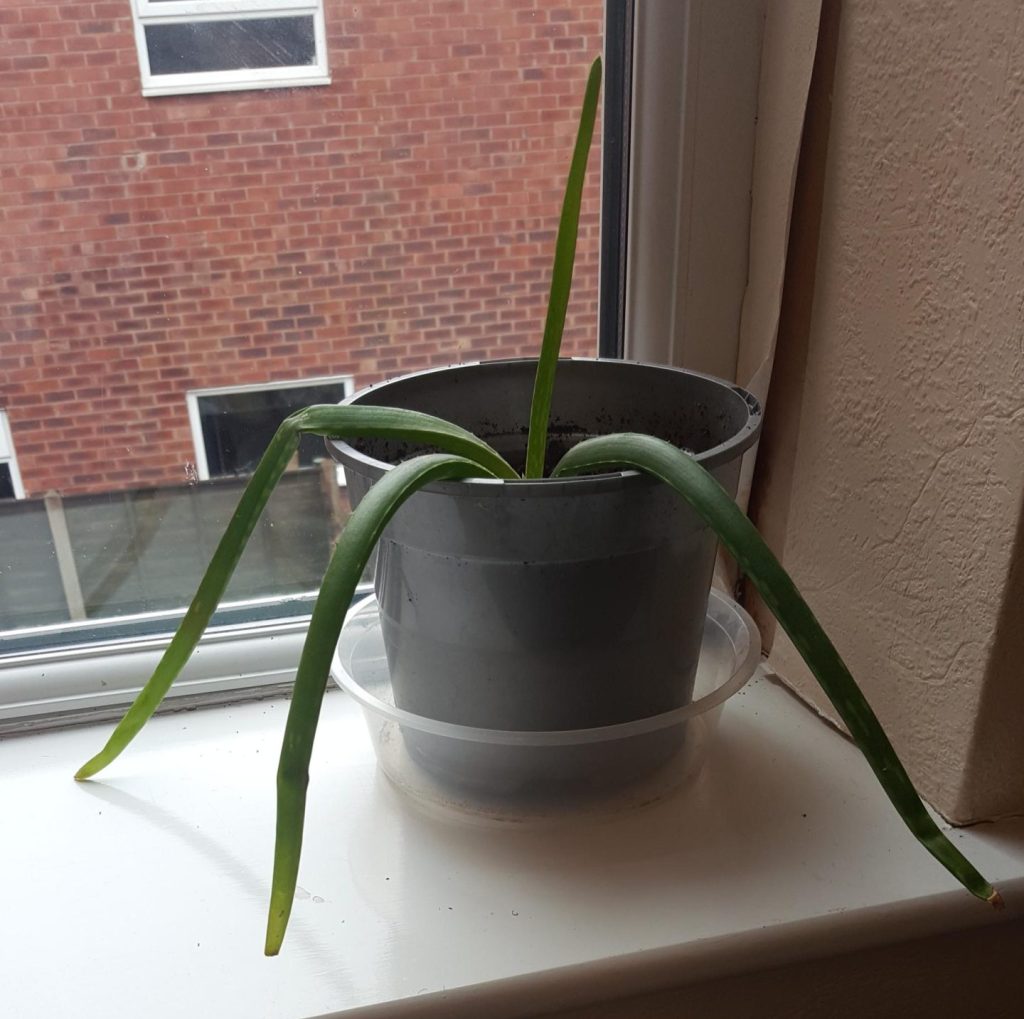 | | |
| --- | --- |
| Family | Asphodelaceae |
| Scientific Name | Aloe barbadensis miller |
| Native | Arabian Peninsula |
| Other Names | Cape aloe,Aloe plant, Chinese aloe, Barbados Aloe |
| Plant Type | Perennial, Succulent |
| Hardiness zone | 4a to 8b |
| Grown | Pots, Containers, Gardens, |
| Height | 24-40 inches(50-101cm) |
| Growth rate | Slower |
| Soil | Well draining, Fertile |
| Light Requirement | Partial Sunlight, Full Sun(Can Tolerate) |
| Fertilizer | Liquid based |
| USDA hardiness | Zone 8 – 11 |
| Blooming Season | Summer |
| Flower Color | Orange, Red, Yellow |
| Leaf Color | Green, Spiky Shape |
| Growth Rate | Slow growing |
| Benefits | For Skin and Body |
| Uses | Cosmetics, skin creams |
| Toxicity | Mild toxic |
kinds of aloe vera
I'm only identifying the more well-known of the 400 or so species of aloe vera.
Maculata Aloe
Alocasia broomii
A. F. rox
The aloe plant
Perry's Aloe
Nyeriensis aloe
Succotrin Aloe
such as Aloe Capitata
How Do You Fix Droopy Aloe plant?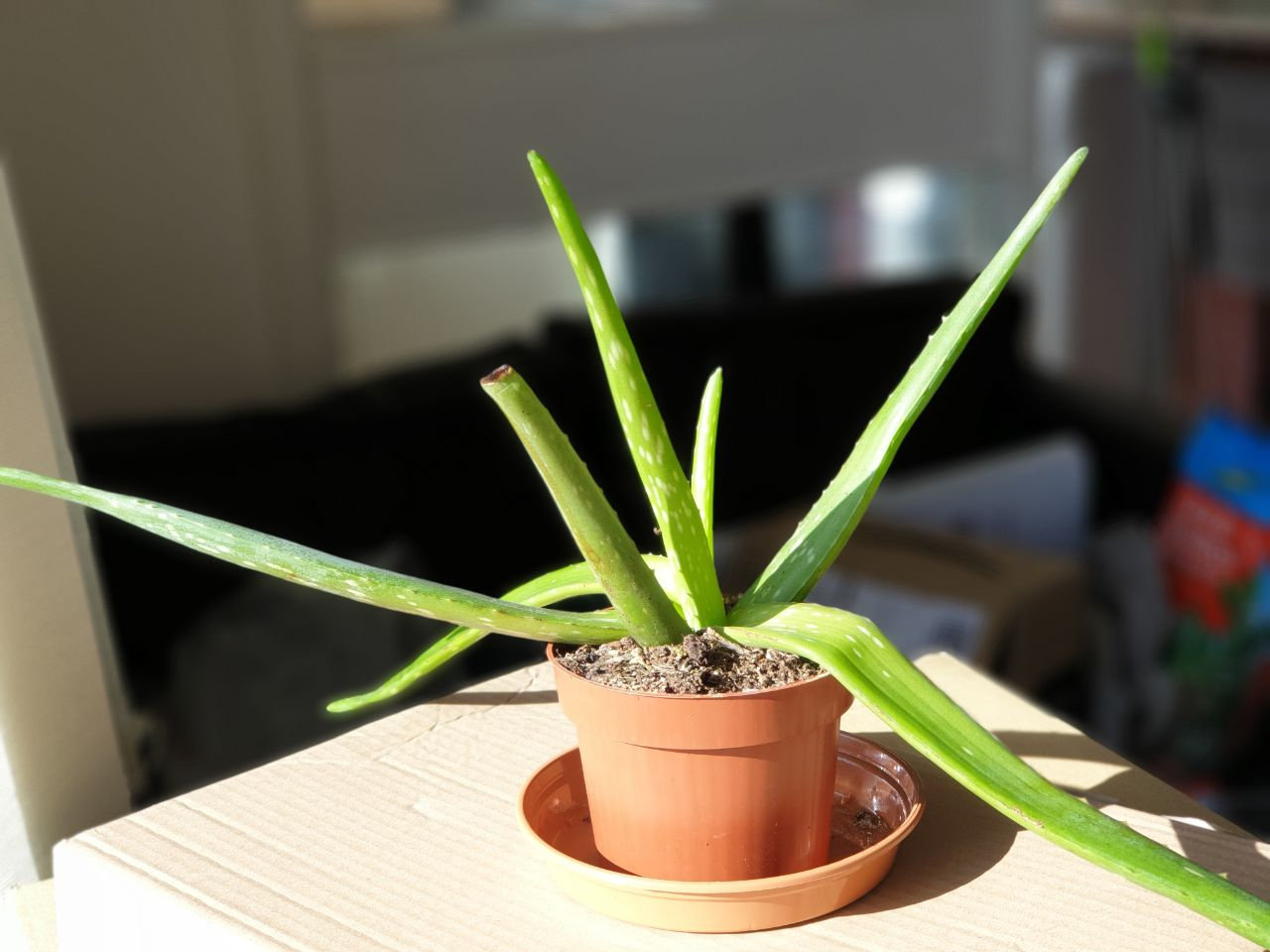 Give your aloe plant some water if the leaves are completely limp and appear dry on the ground because this is an indication that it has been underwatered. Once the plant has stood up after being watered, take a look at it to determine the reason for the decrease in watering.
Keep your aloe plant in direct sunlight for 3–4 hours in the morning to give it a boost so that its leaves can once again stand tall after which aloe will undoubtedly grow. If your aloe plant is limp, it may be searching for the light source as most people grow this indoors in partial to shade, which reduces its capacity to grow. Aloe plants should be moved back and forth from shade to direct sun because they don't like too much light and can burn people. You will see the plant is recuperating if you continue this for two weeks. Avoid placing aloe in direct sunlight or in the afternoon because these times of day are too bright for little plants like aloe vera and can injure or damage the leaves if left there for more than a couple of hours.
Create a new aloe plant from a healthy shoot if your entire aloe plant turns limp and brown because we will be unable to rescue it at this point. Underwatering, too little sunlight, and overwatering are the situations that shock the aloe plant. If you instantly identify the issue and fix it, the plant might recover, but if it has internal damage as well, it won't be able to do so. In order to revive aloe plants, you can always discover a leaf or shoot that can be multiplied. You can also try putting some of the shoots—which typically have roots—in a glass of water. Before washing the roots thoroughly as we don't want any pathogens to contaminate our plant, you might notice some growth after two weeks. Additionally, replace the water every three days to keep it clear of fungus. On water, it will undoubtedly root.
If you alter the watering schedule for aloe plants, they may become limp since they require extra water to store in their foliage for dry days. My advice to the readers is to water your aloe plant in the summer and use less water in the winter.