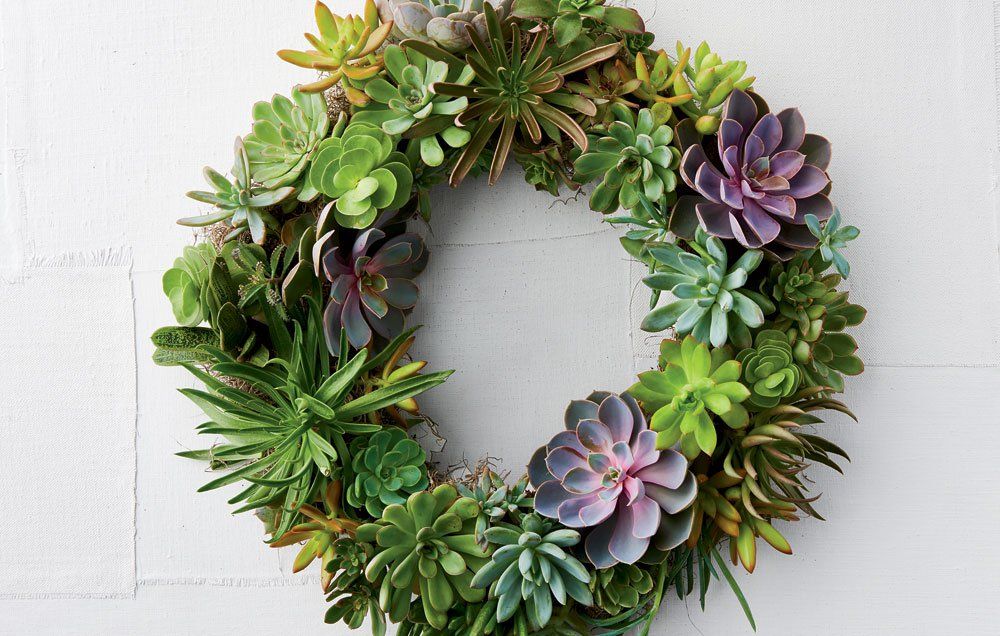 Find out how to craft a beautiful and enduring living succulent wreath with this easy-to-follow tutorial! This original and eye-catching wreath is sure to impress your friends and neighbors when hung on your doorway.
When you buy something by clicking on one of the links on this website, we may get a commission from the sale. This money helps us give you free content to use.
Yay! I'm so excited to finally share my succulent wreath tutorial after all the anticipation! I captured the journey in a video format, and although it was a lot of hard work, I'm so pleased with the results. I'm looking forward to the wreath growing and being able to hang it outside in the warmer weather.
I anticipated the process of making the living wreath to be simpler than it actually was. It was still manageable, but it certainly had its difficulties. All in all, I'm content with the finished product and can't wait to watch it develop over time. Additionally, there is a brief clip at the end of my project that documents the entire process.
To create a succulent wreath, you will require the following materials: succulents, floral wire, floral tape, a foam wreath form, and scissors.
You will need a 15-inch sphagnum moss wreath form, greening pins (or you can use the ones that come with the form), 200 succulent cuttings, and scissors in order to create a succulent wreath.
With that in mind, this is what I did!
Buy or Create a Spangham Moss Wreath Frame
After looking into what others have produced with living wreaths and succulent wreaths, I determined that rather than constructing my own base, it would be best to purchase one. Daniel, who I initially got my succulent cuttings from, suggested Topiary Artworks. After further research, I concluded that they had the finest wreaths at reasonable prices. I bought the 15″ Living Wreath, which is an adequate size and I had enough plants for it with the 200 succulent cuttings I obtained.
Soak the Moss Wreath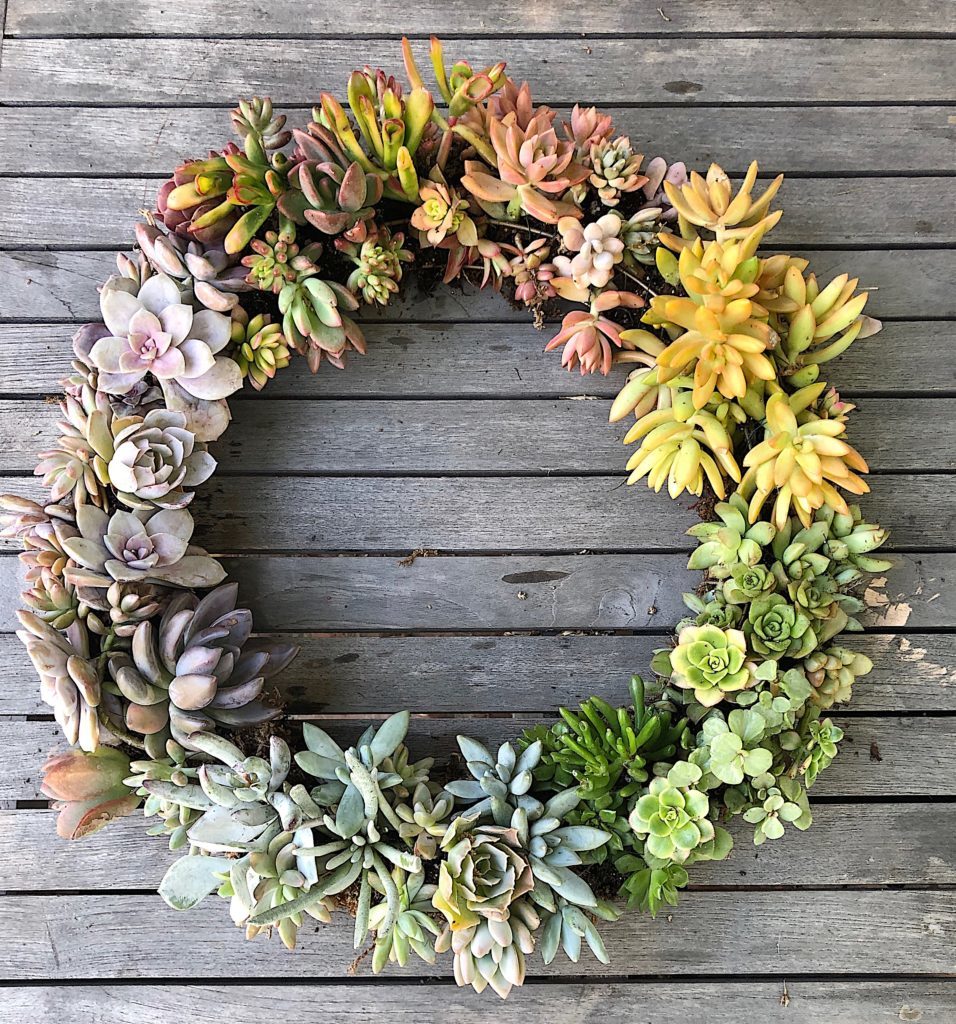 Plan Your Design
In hindsight, taking a photo of how I had planned the wreath before constructing it was a clever idea. I laid out all of the pieces in a circular formation in order to get an overall view of what it would look like and how much material I would need. This was extremely beneficial as I could see if the design was going to be what I wanted and also calculate the exact amount of cuttings necessary. Unless you are completely certain of your design capabilities, I would highly recommend taking a photo before beginning the process. Doing so will create a better-looking wreath and help you use your materials more effectively.
Take a look at this post to see the idea of "thriller, filler, spiller" in action. The concept helped shape the design of this wreath. I placed one big succulent at the bottom (thriller) and used a pot of String of Pearls succulents to make the wreath look unified and to incorporate a more graceful element (spiller).
Use Scissors or a Dowel to Poke Holes in the Wreath then Add the Cuttings
Now the challenging work starts! You'll require some kind of tool to make holes in the wreath. I went for scissors since the size was adequate, however, you could also use a pencil, a dowel, a stick, or whatever else you can think of. Once you have a hole, insert your chosen tool and, there you have it!
If you need to hang your wreath up earlier than 6 weeks after making it, you should get greening pins (like large bobby pins or the wire objects used to secure curlers in hair). These pins should be placed over a leaf or stem of the cutting and into the wreath to keep it in place. Even though the wreath was laying flat (as it should be), some cuttings didn't want to stay. Therefore, it is advised to purchase greening pins to avoid this problem.
Keep the Succulent Wreath Flat for 6-8 Weeks
As I mentioned before, you should allow the cuttings of your wreath to take root for 6-8 weeks before hanging it up. If you don't, all your effort may be for nothing. Don't hang the wreath until you know the cuttings are properly rooted, or else you may end up with a mess!
My sister-in-law was impressed with the wreath I made, and she asked if I could make one for her too. I'm thrilled with the final product!
Substitute a different set of words to express the same idea:

To make a long story short, I will summarize the main points. In other words, I will give a brief synopsis of the key ideas.
It appears that my sister-in-laws are fond of wreaths! I've put together another one for my other sister-in-law.
Substituting an alternate phrase for the same meaning:

In place of using the same words, speaking in another way.
You are now ready to create your own beautiful succulent wreath!
FAQ
How long will a succulent wreath last?
The life-span of a succulent wreath can be quite long. If planted correctly, you can expect a minimum of one year of use. Generally, however, they can last for two to five years. There is even one case of a wreath that was successful for ten years!
Can succulents live on a wreath?
How do you care for a live succulent wreath?
Bright light is best for your wreath, but make sure to avoid exposure to too much direct sunlight. A bit of early morning sun is fine, but the hot, strong sun can cause the succulents to burn and the roots to dry out quickly. To keep your wreath lasting even longer, make sure to keep it in a spot that is sheltered or covered.
What do you use for a succulent wreath?
Replacement: – Juicy trimmings.
– Shears or scissors.
– Net-covered moss wreath shape.
– Sharp object (scissors, pencil, or screwdriver)
– Craft clasps or flower pins.
– Galvanized fixtures.