Aphids attack plants in groups, causing stunted growth, curling leaves, leaf patterning, and yellowing, among other symptoms.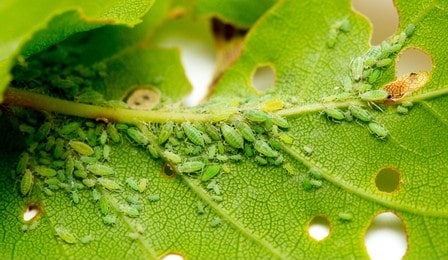 The black residue on the leaves, stems, and buds of both indoor and outdoor plants is left by these insects. If your plants aren't overly affected, a simple natural remedy – vinegar spray – can be employed to get rid of aphids.
Your plants may be infested with aphids. Small green insects that feed on the sap of their host plant, these garden pests are a nuisance. They are commonly seen in groups and, if left unchecked, can do substantial harm to your garden. You may control aphid populations fast and easily using natural vinegar spray for aphids without affecting the environment or other sections of your garden.
We'll show you how to prepare a natural vinegar aphid control spray in this article. We'll also go through which plants aren't ideal for this form of aphid treatment and suggest some alternative natural cures.
We hope you enjoy the products we suggest! Just so you know, we may receive a commission or other revenue if you click on one of the links on this page. If you use our links, please know that we appreciate it!
Combine white vinegar and water in a 1:3 ratio to make a vinegar solution. Spray this vinegar natural aphid cure on afflicted plants, including the undersides of leaves and stems, where Aphids like to hide. Repeat the vinegar natural aphid spray after a week to eliminate all remnants of the insects.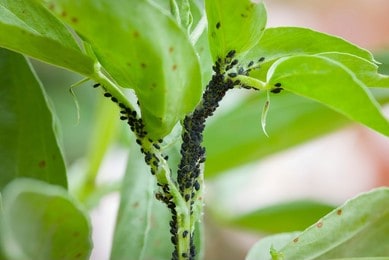 Take a look around the Kitchen
If you have vinegar on hand, you may make an excellent homemade aphid spray to combat the problem. While other natural Aphid control pesticides, such as Neem Oil Spray, can be used to treat your plants, vinegar will suffice as a fantastic DIY Aphid Spray if you have it on hand.
Is Vinegar Effective in the Treatment of Aphids?
Yes, using natural vinegar aphid spray to cure aphids on your houseplants, trees, shrubs, and outdoor plants is a simple and economical remedy. Aphids are repelled by liquid dish soap or acetic acid (a major component of vinegar) by destroying their waxy protective coating—the cuticle—which keeps them hydrated in dry environments, leading them to die of dehydration.
Vinegar is a much safer natural pesticide than chemical pesticides because it is a biopesticide (not chemically processed).
Infestations of aphids
Aphids are small, greenish-black insects that eat plant leaves and stems, causing substantial harm to hibiscus, pothos, small trees, and kale. Once you've identified these pests, you can use a vinegar solution to kill them.
Here's how to make an easy vinegar-based aphid spray:
Pour a tablespoon of vinegar and a spoonful of Castile Soap into a small bucket.
Fill the bucket halfway with pure water (3 oz).
To make the solution, combine the two ingredients and thoroughly stir them together.
Pour the solution into the spray pump.
To get rid of aphids, spray them on affected plants
To get rid of any leftover pests, repeat the procedure after one week.
I propose the ISTILL Garden Pressure Sprayer Pump for your gardening needs. It creates changing streams and mists with good coverage, making aphid, thrips, and mealybug eradication a breeze.
Because it is less hazardous to your plants, it is more effective to use a diluted vinegar solution numerous times rather than a concentrated one.