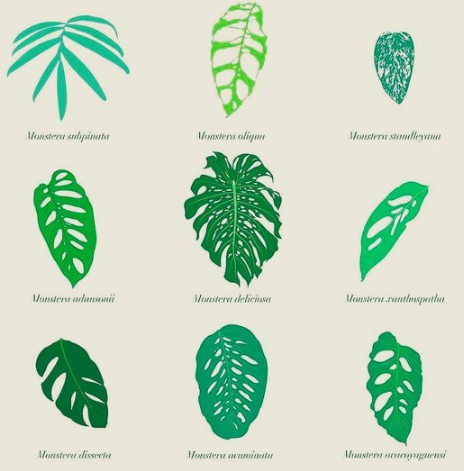 The gorgeous monstera plant with its wide lobed leaves has won the hearts of everyone who works in the indoor houseplant industry. Did you know that there are several different varieties of monstera, each of which varies in size, colour, and the layout of its holes? It's accurate! In point of fact, there are forty-eight different species of monstera, but the local nursery probably only carries a few of them. We have included some of the more frequent ones below, in addition to one that is extremely rare and has only been seen 17 times in its natural habitat. That's quite cool, isn't it?
Due to the rapid growth and transformation of monstera leaves over the plant's lifetime, monsteras are frequently given incorrect names in nurseries and garden supply stores. It's possible that a young plant will appear nothing like its mature relatives, and may even give off the impression of belonging to an entirely different species.
The following is a list of the more common types of monstera that you will probably find in your local nursery and that are available for purchase online, along with some defining qualities so that you know exactly what you are getting!
The Most Commonly Cultivated Types of Monstera (and Which One Might Be Right For You)

Monstera Deliciosa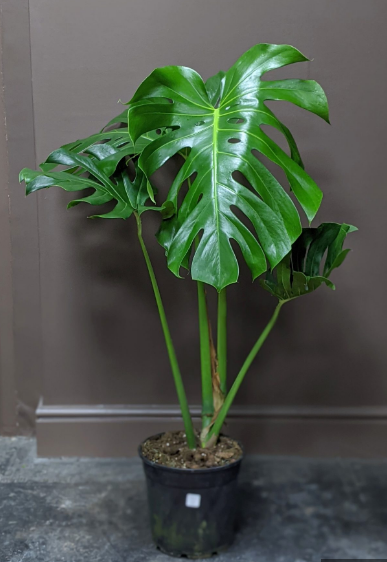 The Complete Guide to Monstera – A Care Guide for Monstera Plants
This is the most common kind of monstera, and it is the type that you will most often find when you go plant shopping. We all know and adore this monstera. It has those large, beautiful holey leaves that are currently trending in printed home decor and nurseries. This type of leaf is becoming increasingly trendy. Choosing this option is a safe bet you won't regret! (If you want The Complete Guide on Caring for Monstera Leaves, click here.)
A fun tidbit about this plant is that it is referred to as "deliciosa" because it is the source of Mexican breadfruit.
Monstera Borsigniana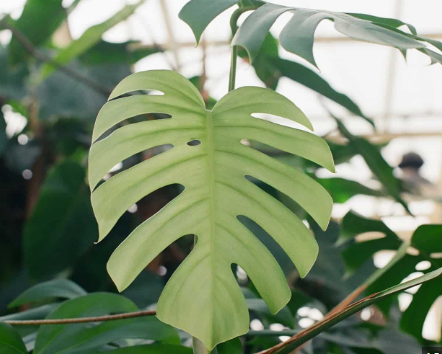 Because it is difficult to tell the difference between the two while they are young, this is truly a variant of the deliciosa and may be marketed and sold under the same name.
Examining the stem is one approach to make that determination. Borsigniana does not have the characteristic ruffling, puckering, or the formation of adorable small bumps at the point where the leaf joins to the stem, as do delicioiusas. Borsigniana is also more compact and matures at a quicker rate than deliciosa. Instead of sprouting holes in a more haphazard fashion like deliciosa does, mature plants typically form two tidy rows of holes or slits on their leaves.
Do not worry in the slightest in the event that you receive one of these instead of a deliciosa! It can reach the same height, almost reach the same size, and expand at a somewhat faster rate, but it will still make a beautiful addition to your property.
Monstera Variegata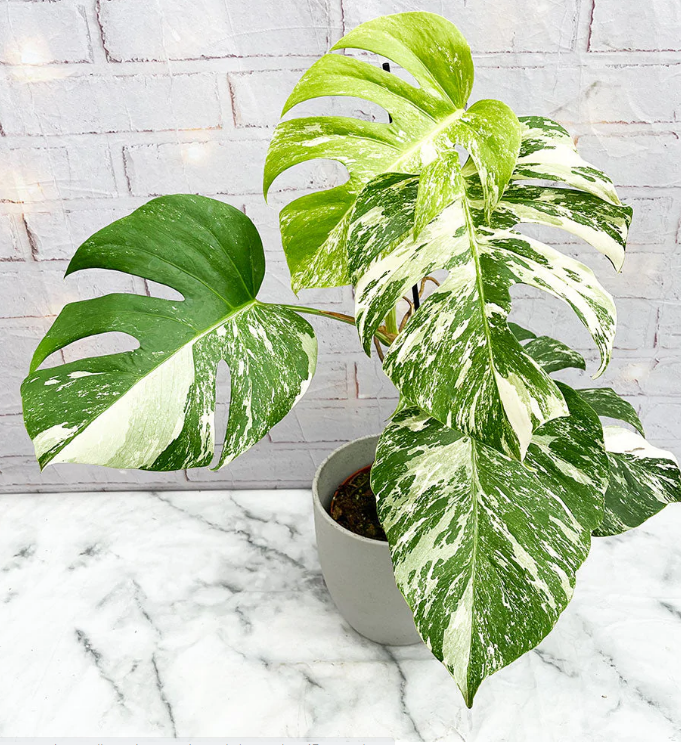 There are no such things as variegated monsteras; rather, they are just a colour variation of the same plant. There are times when these plants even appear to have been painted white. They are wonderful in my opinion!
The term "variegated" refers to plants that have patterns that include a white or cream colour in addition to the green colour. These plants are typically far more difficult to locate, making them significantly more expensive.
By the way, if you're fortunate enough to discover them, you can also get a variegated variant of many of the types that are included on this list.
Monstera Adansonii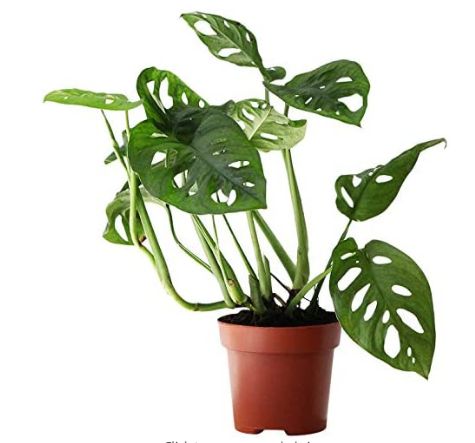 Although this cultivar is somewhat more diminutive than the deliciosa, the holes are still pretty sizable! The holes often consume around half of the leaf's surface area.
If you see this label in a nursery, you can be certain that you are looking at a monstera adansonii rather than a true monstera obliqua. However, true obliqua are exceedingly rare, so you can be confident that you are looking at a monstera adansonii if you see this label. These are fairly easy to find. Adansonii also has a tendency to have leaves that are more coarse and thick than obliqua.
Monstera Pinnatipartita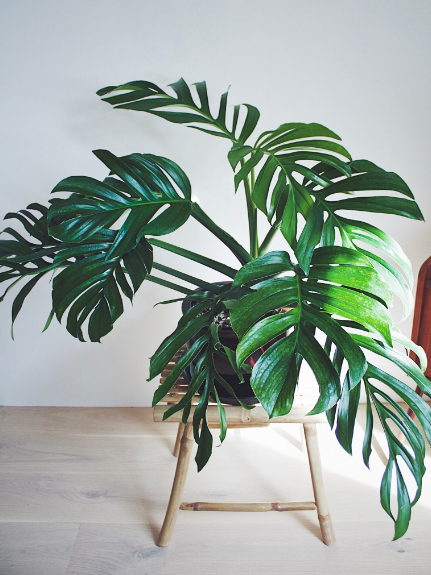 These plants have leaves that are quite huge and glossy, but rather than having holes in them, they tend to have slits that stretch all the way to the leaf's edge. The stems of the leaves are solid and rigid, and they have a beautiful emerald green tint to them. These are a little bit more difficult to track down, but you should be able to find one or two online.
Monstera Dubia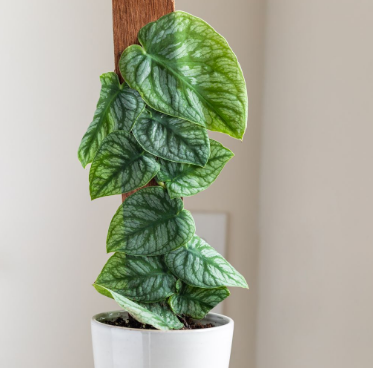 This is definitely one of my top picks! This type has leaves that are exceptionally small and fashioned like hearts, and they can be either dark or light green in colour. It is not exactly varied, but it comes close to that description. It develops into a climbing plant similar to a vine, with shorter stems and leaves that creep closer to the surface they are climbing.
These are difficult to come by, but if you do locate one, you should grab it with both hands!
Monstera Siltepecan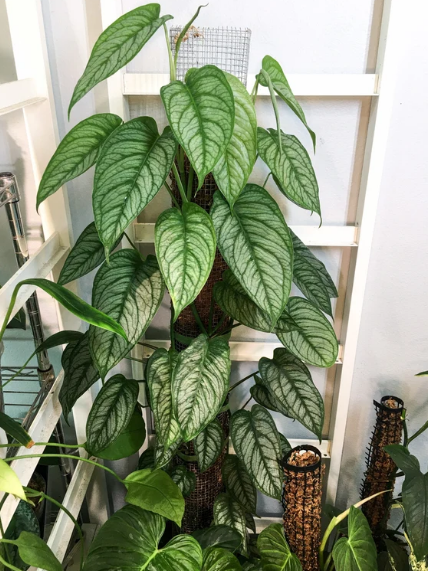 This gorgeous cultivar features leaves that are huge and fashioned like teardrops, and they have a concentration of tiny holes surrounding the central vein. They often have a paler appearance compared to other monsteras and feature a combination of dark and light green tones. Gorgeous! They are more difficult to track down, but when you do discover one, it will be an attractive addition to your collection.
Monstera Obliqua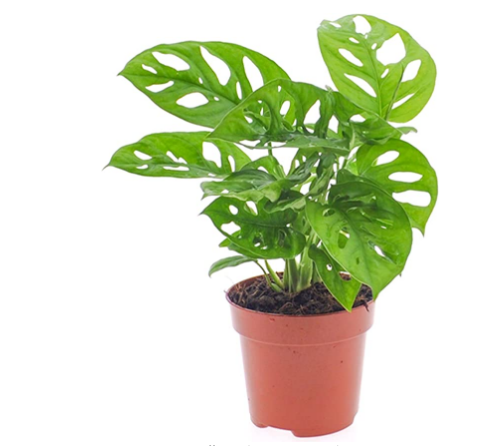 We are sorry to be the bearers of bad news, but you will not be able to locate this item at Home Depot or anywhere else for that matter. However, we thought it was so interesting that we couldn't help but add it!
These magnificent plants retain the holes that are characteristic of them, but the holes tend to take up more space on the leaves than the leaves themselves. These plants are exceedingly fragile, and you won't be able to find them in nurseries since the holes can consume up to 90 percent of the paper-thin leaves. However, if you're lucky, you might be able to find them in some botanical gardens. This plant has only been observed 17 times in its natural habitat, and researchers frequently study it in order to cross-breed it with other types of the same species.
Rhaphidophora Tetrasperma or "Mini Monstera"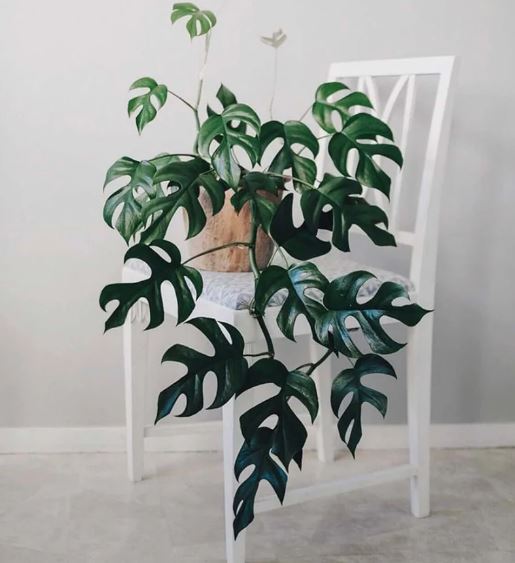 This plant is not a monstera in the strictest sense of the word (as you probably observed, the word "monstera" is not included in the plant's scientific name), but it sure does look lovely when exhibited alongside a monstera!
This plant resembles a miniature form of monstera and has the same distinctive holes in the leaves that monstera has. However, the huge holes tend to go all the way to the edge of the leaf and appear more notched than monstera's holes do. These are more widespread than some of the more exotic varieties of monstera, and despite this, they are still rather simple to care for. The colour of the deep green leaves is striking. (To learn how to care for a Mini Monstera, click here.)

The good news is that the requirements for caring for each of these types are extremely comparable, which means that you won't have to relearn how to care for your collection each time you add a new variety.
Check the selection at your neighbourhood nursery to see if any of these types are available, or look for them on the internet. Finding some of the more unusual species of monstera can be challenging, but it is not impossible. A couple of these in your indoor garden will work wonders for its aesthetic.
FAQ
Is Monstera a good indoor plant?
It should not come as a surprise that monstera prefers a warm and humid climate because it is native to tropical rainforests from southern Mexico to Panama; therefore, they are great for growing indoors because of these preferences.
Is Monstera high maintenance?
Monstera is a large houseplant that can develop quickly in the correct conditions. We adore it because of the minimum amount of upkeep that it requires so it is considered low maintance.
Does Monstera like sun or shade?
Monsteras want bright, indirect sunlight and will thrive beside a sunny window where the sun's rays do not directly hit the leaves. A monstera grows best in an east-facing window or near a south-facing window.