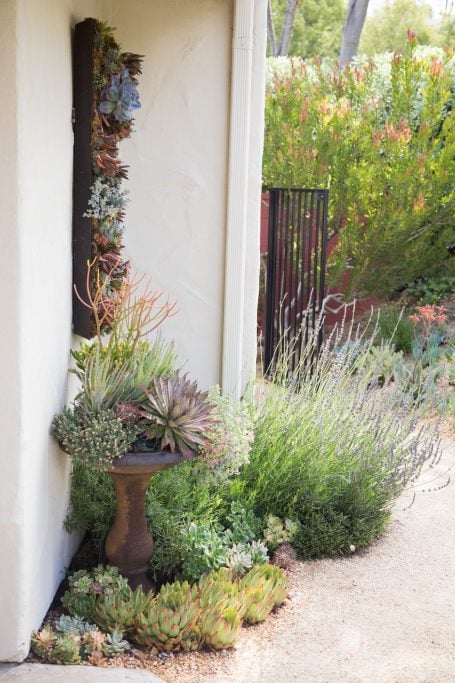 The Succulent Perch's Cindy Davison has proved that you don't need much room to create a stunning succulent garden, as evidenced by this incredible small-space example.
If you make a purchase by following a link from this site, we may receive a commission without increasing the price you pay. This commission helps us to keep providing you with free content.
I was graciously welcomed to view Cindy Davison's garden at The Succulent Perch while on a trip to San Diego.
I was thrilled when I found out that Cindy was redesigning her garden and after seeing the pictures, I was eager to go and witness the transformation for myself. I had been a fan of Cindy's succulent creations and had been fortunate enough to have her make some for my book, Idiot's Guide: Succulents.
So often, succulent gardens that are highly praised and admired are enormous, needing a passionate gardener (or even several) to take care of them.
However, Cindy's garden is an impressive sight to behold with its practical and attractive design. Even though it is not large in size, it is still a sight of breathtaking beauty.
Do you want to check it out now?
Cindy's front yard is very inviting, with lush beds of succulents and a birdbath adding to the display. It is clear right away that she has a deep appreciation for birds.
She constructed a lovely hanging planter, making use of cork board and greening pins to affix the succulents. She then filled in the rest of the space with sphagnum moss, and the driftwood and large Echeveria 'Sahara' add a mesmerizing center of attention.
When you first step into the side yard, you will be welcomed by the tranquil sound of a trickling fountain and a vibrant terra cotta pot of succulents. The garden has an eye-catching color scheme, with reds, oranges, blues, and greens all working together in harmony.
I'm impressed by the amount of consideration Cindy puts into every aspect of her designs.
She has a great understanding of color coordination, proportion and balance, and knows how to add the perfect finishing touches.
These cacti are potted and buried in the ground to keep them from growing too large and becoming unruly. This allows for a neat, tidy look that looks like it belongs in the natural landscape.
The wood planter boxes are decorated with succulents around the edges, particularly at the corners, so that you don't have to worry about accidentally jostling them.
Cindy is an expert at utilizing natural and organic resources. She has included a vegetable garden box containing edible greens, and even ingeniously repurposed a table by removing the legs and laying it on its side to serve as a trellis.
This garden is truly delightful.
She has scattered bird and butterfly references throughout her work, some of them quite noticeable and others more hidden, like a game of seek and find.
I've been looking for something similar to the charming wooden pail that she has, but I haven't had any luck so far.
This garden is not particularly large; two people can fit side by side on the path, but there is not much room for more than that.
I believe that is one of the elements that contributes to why I find her garden so appealing.
It's easy and achievable for everyone!
We window sill and porch gardeners wouldn't require a lot of room to produce a garden similar to this one.
I am delighted to have the chimenea, allowing me to savor a home-cooked meal while surrounded by my plants.
Cindy selected a variety of plants for the garden, including succulents, that would bring in birds, bees and butterflies. We noticed some Monarch cocoons attached to nearby succulents, showing that the garden was already attracting wildlife.
I'm captivated by Cindy's utilization of gravel to create further visual interest in the garden, even though the plants are undoubtedly the most awe-inspiring feature of it.
She arranged the gravel in her garden to create a layered effect, with the largest pieces near the succulents, medium-sized ones just outside them, and the most plentiful size being similar to coarse sand. It was like having a framed picture, but in the garden.
Cindy decided to decorate around her air conditioning unit rather than trying to conceal it. She hung a large picture above the unit to highlight it.
The expansive view is so enjoyable and makes the garden seem like an integral part of the home.
She has adorned the air conditioner with a succulent display, similar to how one would decorate a table indoors.
Photographing Sedum clavatum, one of my personal favorite succulents, was a special moment for me. It was more special when Cindy told me it was her first succulent ever. It was amazing to think that this one plant had the power to completely change Cindy's life.
I was filled with joy and motivation after spending time in Cindy's garden. I'm already dreaming up ideas to make our future place feel like home, so I'll be sure to share them with you when I put them into action.
If you're interested in viewing Cindy's amazing creations, you can get a copy of my book, Idiot's Guides: Succulents, or take a look at her Facebook page where she posts pictures of her arrangements and offers tips on how to craft your own.
FAQ
What attracts most butterflies?
Reworded: To draw in butterflies, the most important action is to supply them with the food they prefer – usually plants. Adult butterflies are drawn to nectar-producing plants from which they can consume nectar. They are also interested in their host plants, the particular plants where the female butterflies lay their eggs.
What do you put out for butterflies?
For whole fruit, use a platform or tray feeder.
If you plan to give hummingbirds liquid feeders, opt for the varieties without a lot of fruit solids. A humming bird feeder or sponge feeder can be used for this type. If you decide to go with a mash recipe, you will need a platform or saucer feeder. For whole fruit, you should use a platform or tray feeder.
What smells are butterflies attracted to?
Lavender is a timeless favorite due to its strong, sweet scent and beautiful purple-blue flowers. It can be used in many ways, such as cut and placed in bouquets, used to make tea, or added to herbal mixes and potpourris. Its fragrance is so powerful that it attracts pollinators like bees and butterflies.
How do I attract birds and butterflies to my yard?
How do you make butterflies attracted to you?
If you stand still, the butterfly will be curious and come closer to you.