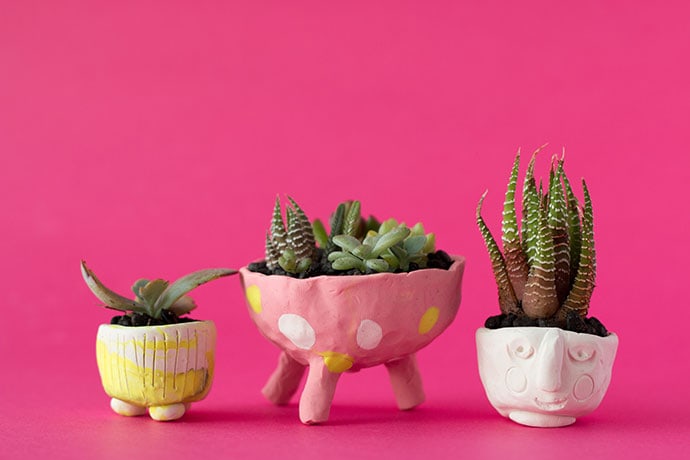 If you're looking to create pots for succulents, polymer clay can be a great option! It's easily accessible and doesn't require you to have a kiln; all you need is an oven to bake it.
When you buy something by clicking on links on this website, we might get a commission, but you won't have to pay any extra. This helps us give you more free content.
For optimal results, you should use a premium-grade polymer clay. After you have finished your pottery creation, you do not need to apply a sealant to it, although if you would like the pot to have a glossy or dull finish, a glaze is an excellent choice.
To ensure your succulents will stay healthy, you should put a drainage hole in any pot made of polymer clay. This will enable water to escape, keeping your succulents happy in their customized habitat.
If you're looking for some fun and creative pots, you can explore Instagram, Google, and Pinterest to find some cool ideas. We even have some miniature succulent ideas you can look at if you're interested in making small pots.
Once your pot is prepared (don't forget to add a drainage hole!), you can follow these directions for planting succulents.
FAQ
What temperature do you bake terracotta clay?
Roast the item at 275°F (130°C) for 30 minutes for every quarter inch (6 mm) of thickness.
Does baked polymer clay dissolve in water?
Once polymer clay has been put in the oven, it will remain waterproof and durable. On the other hand, air dry clay can be broken down when exposed to heat or moisture.
Which clay is best for plant pots?
Using earthenware clay to make planters is an advantageous choice because it is highly porous. This allows water to easily drain out of the planter, preventing the plants from being over-watered. Additionally, the earthenware clay is an ideal material for growing plants as it allows water to be absorbed as needed.
Can baked polymer clay hold water?
Polymer clay is non-porous unlike wood and unglazed ceramics, and therefore does not retain water.