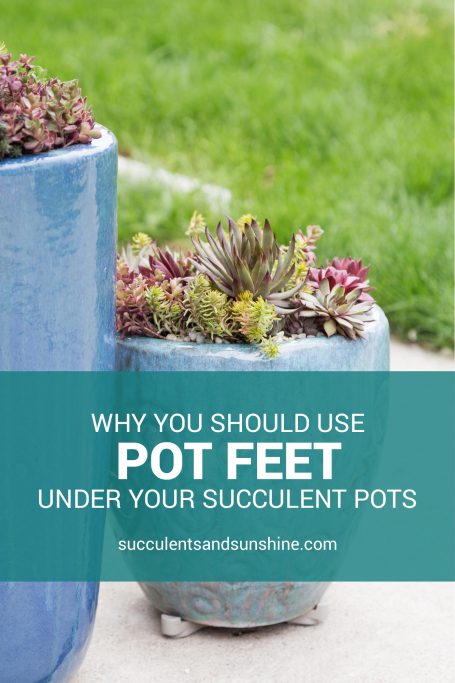 If you haven't come across pot feet yet, you're in for a treat! Learn why they can be a great addition to your succulent container gardens.
When you buy products through links on this website, we may get a commission without any extra cost to you. This income helps us provide free content for you to enjoy.
Secondly, they keep your pots from slipping and moving around.
Laura explained to me that pot feet have two main functions. Firstly, they keep your pots from leaving discoloring marks on the surface below them. I experienced this firsthand when I moved some planters around my patio and I ended up with permanent stains that took a long time to disappear. Secondly, they keep your pots from sliding around or being knocked over.
The main benefit of pot feet is that they enable air to circulate beneath the pot, allowing the soil to dry out completely between waterings. However, heavy rain can still cause the pot to become over-saturated, even if you take steps to limit the amount of water it receives.
Without pot feet, the water will not be able to drain out quickly and the air flow underneath the pot will be hindered, resulting in slower drying of the soil.
I conducted my own experiment to find the best pot feet for my succulents by purchasing and trying out various types. After researching, I bought a few different types of pot feet and tested them out to see which one I liked best. These were the varieties I tried:
An invisible pot support system made of cast iron that can be used to elevate flowerpots, allowing them to be more easily moved around a room or garden.
Laura suggests trying out this adjustable plant stand.
I opted to utilize the plant trolley (also known as a dolly or caddy) to move the pot without the need to lift it, which is a great advantage. I chose to tuck this trolley underneath a larger, shallow pot I own.
I'm still not sure where to put this pot, so I'm considering using a trolley to move it around until I decide. Although it's the most expensive option, it will be useful for transporting my plants indoors for the winter, making the process much simpler.
I appreciate the dependability of the Pot Toes, but they are quite visible. I purchased two shades and determined that I liked the light gray better since it blended in with the concrete more effectively.
I settled on three "toes" for my pot, which appears to be sufficiently stable, as recommended.
I'm a fan of the subtle nature of the "invisible feet"; I appreciate the fact that they remain mostly unseen.
Paraphrase: Using the risers lifts the container off the floor, which is the purpose of them, however, they are not visible unless you are on all fours, like when you are chasing a baby.
I would definitely place four supports underneath each pot; three wasn't sufficient enough to ensure stability, particularly for the taller pot.
I also have several pots arranged on a wire rack. This allows for maximum airflow and plenty of space for the water to drain out. It may not be the most attractive part of my garden, but it is practical and should help stop the plants in the containers from decaying.
Click here to purchase pot feet for your outdoor space!
In conclusion, Laura has given me some great advice this year about succulent gardening; the most valuable being to use pot feet to ensure that there is proper drainage and air circulation for the soil. Grateful for the tip!
Do you have any experience with using pot feet in your garden? Have you incorporated them into your garden already or are you planning to do so?
FAQ
How do you get good drainage in pots?
Using perlite as a soil amendment in potting mix can further improve drainage and help promote healthy root growth in plants. This amendment also ensures that the soil in a container does not become overly compacted.
Should I put anything in the bottom of my planter?
An effective way to drain water from a planter is to put broken pieces of pot at the bottom. This can be done with discarded plant pots or chipped crockery that has been smashed into small to medium sized fragments. This will act as a barrier to stop soil and compost escaping through the drainage holes.
What do you put under pots?
What can I use instead of plant saucers?
You can place cork pads underneath small planters with plants that don't need to be watered often, such as succulents. This is what I do when putting my cachepots in place.
Should you put feet under pots?
We suggest using feet for the pots to ensure good drainage. This will allow any excess water to be able to escape the pot through the hole on the bottom, preventing woodlice and ants from creating a colony in the container when it is placed on the ground.